History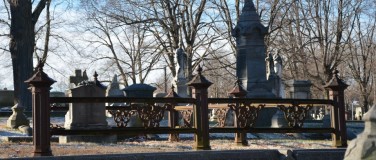 From its humble beginnings on May 24, 1851, when 215 original members incorporated the Catholic Cemetery Society in Dorchester, the Association is still performing the task it was mandated to do – provide a final resting place for our departed and beloved dead. Started in one small Cemetery in Dorchester, the Association now maintains four non-sectarian cemeteries in Boston.
We are a member of The Massachusetts and The New England Cemetery Associations
COVID 19 UPDATE
All Offices of The Boston Catholic Cemetery Association will reopen to the public on Saturday May 29, 2021.

If our offices are closed you can utilize our email at info@bcca.comcastbiz.net or by visiting our website
Maps, grave locations and other important information can be found on the website via computer or smartphone.
We will not be accepting payments in cash for services and time payments until further notice. Personal checks, bank checks and money orders made payable to "The Boston Catholic Cemetery Association" will be accepted. Credit cards will also be accepted for grave sales and funeral services but not time payments.
Memorial Weekend

Our 2 cemetery offices, Mt. Benedict and Mt. Calvary will be open to the public from 8:30am to 12:30pm on Saturday 5/29, Sunday 5/30 and Monday 5/31. Entry will be limited, masks must be worn and social distancing must be maintained.

The cemetery grounds will be open for visitation as listed below:
Mount Benedict gates: 7:30am to 7:00pm.
Mount Calvary – New Calvary gates: 7:30am to 6:30pm.
St. Mary's – will be open 9:00am to 1:00pm all weekend.
 Rather than visiting our offices please utilize our website for grave location look-ups and maps as office access will be limited.
 Website address:   www.BostonCemetery.org
Email address: info@bcca.comcastbiz.net
Grave lookup link:  https://search.bostoncemetery.com/
Maps:    http://www.bostoncemetery.com/maps/
 Funeral Protocols:
 All funeral processions will be greeted at the main entrance of the cemetery where the service is scheduled.
A cemetery staff member will be there to greet you, collect paperwork and coordinate the process.  If assistance is needed at the graveside our staff will remain in the area should there be a need of their service.
Everyone attending the funeral MUST be wearing a mask.
We request that the service attendees maintain a 15 foot distance from the grave while our staff prepares the graveside for the service in order to avoid personal proximity that may aide in the transmission of this disease to our staff.
We want to make the graveside service as normal as possible. We thank you for your help in advance.
When our staff has completed their work families will be able to visit the grave as normal.
As health officials have indicated, one way to limit the spread of the COVID-19 virus is through limiting public gatherings. If you have symptoms of COVID-19 or are feeling unwell, please stay home. This will not only speed your recovery but prevent spreading the illness and protect those in high-risk groups.
 If you are experiencing a cough, fever, or shortness of breath, we encourage you to not attend funeral services or to visit our cemeteries.
Please know that we are here to work with our families and funeral directors to make the process as normal as possible. Our sympathies are with those that have not only lost a loved one but must endure the demands placed on us all by the current health crisis.